i found out about sydneys blog (
the daybook
) from one of my blog favorites
little miss momma
taking about how awesome she is. so i checked out the daybook... and i LOVE it. her and her husband are so cute, she has great style and is super funny.
sydney started featuring "awkward and awesome thursdays" on her blog and i think its a good way to learn to laugh at yourself. so i decided to join in the fun....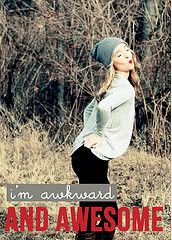 AWKWARD:
accidently grabbing the hubbster's set of keys (which do not have a house key on them) and locking myself out of the house on my lunch break.
not realizing its my hubbys keys until i call my dad and complain and almost break my arm off from turning the key so hard because "my car is locked up and wont turn on". (to my defense: gregs f-150 key and my explorer key are almost identical)

since ive lost weight, my now too-big pants bunching up in the crotch. like bad.

people standing WAY too close to me in the line at the post office. every time i take a step forward, you do not have to take a step forward, too! i may be trying to get away from you. respect personal space, people.

driving home, coming up on a stop light, resting my elbows on the steering wheel... accidently honking my horn, scaring the crap out of myself while causing others to stare.

while waiting at the dermatologist's office, being forced to stare at this poster:

CREEPY, right?!

AWESOME:
the fact that the hubbster is a morning person. and wakes me up (im more the "monster in the morning" type) so sweetly. every day. with morning rubbing, singing, and telling me how cute i am as i lay there with my eyes closed, grunting and whining. (yes, he is most definitely is lying, or at least exaggerating about the last part, but it makes me smile).

how many people have told me that you love reading my blog! seriously. makes my day. (and it would be EVEN BETTER if all of you would "follow me" and write comments, *hint, hint*)

the hubbster surprising me with these at work:

the fact that i get to see these sweet faces (my niece and nephew!) in approx. 1 month!!